Responsible Inclusive Purchases (CIR, as per its initials in Spanish)
PURPOSE: Economic and social inclusion of suppliers with fewer opportunities to access the supply chain market.
CIR PROCESS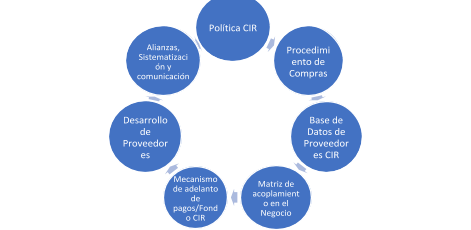 LINES OF ACTION:
Local Inclusive Purchases
Corporate Inclusive Businesses
Development of Suppliers
HIGHLIGHTS:
Services acquired: textile clothing, corporate gifts for employees and customers, catering services, graphic services, bags and production supplies.
Model: Replicability and transfer of education.
Articulation: INCIDE, government agencies (INTI, INTA, Ministries of Production and Social Development), NGOs, Work Cooperatives, protected workshops, entrepreneurs and universities.
Scope: Argentina, Brazil, Chile and Mexico.
RESULTS:
50 active CIR suppliers.
31 plants and commercial offices with CIR suppliers.
Purchases for +ARS 12,300,000 in 2017.
+ 500 participating entrepreneurs.