Arcor Ranked 1st in the 2018 Top Brands Ranking
Arcor has once again taken 1st place in the Top Brands Ranking, prepared by SEL consultants for APERTURA magazine. It was based on the opinion of 190 entrepreneurs, 35 business consultants and 35 specialized journalists.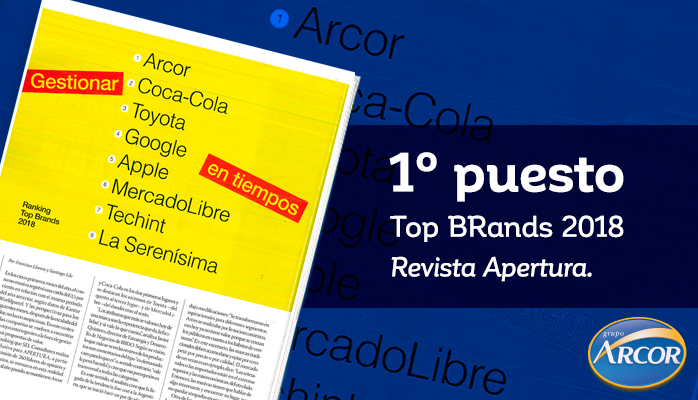 To compile this ranking, each interviewee spontaneously mentioned up to three brands. Three methodology criteria were used to evaluate the responses: the number of mentions, the mention order, and the score given to each of the brands mentioned.
In addition, the magazine interviewed the leaders of the most-mentioned brands to find out what their strategies are to help them address challenges and keep them being the brands that Argentineans prefer the most in changing economic and social environments.
"Arcor is much more than just a brand. It is Argentina's flagship private company", Valeria Abadi.
In this regard, Valeria Abadi, Corporate Communication and Marketing Services Manager, said that the key is to respond to changing dietary trends and shift to healthier lifestyles. In this sense, she highlighted Arcor's work on the nutritional profile of its portfolio, whereby it seeks to improve formulas without losing the essence of each product. She also mentioned the management of the commercial area, always looking to add value regardless of the economic situation.
To read about other Acknowledgments received by Arcor, please visit the Media section.
Download attached documento