VERTICAL INTEGRATION IS KEY FOR ARCOR - Revista Candy & Snack Today
Arcor Group has a strategy for growth in the U.S. market that includes an expanded sales force and a focus on retail partnerships.
International candymaker Arcor Group has its strength in its diversified business units working together for efficiency, flexibility and quality control, according to President Luis Alejandro Pagani.
Pagani's father, Fulvio, founded the company in 1951 with the goal of bringing consumers around the world quality products at fair prices. Pagani tells Candy & Snack TODAY that now in its 70th year, Arcor continues to develop new product categories and business opportunities, and its products are sold in more than 100 countries.
The company is made up of three business divisions: Consumer Food Products, comprising its portfolio of brands covering food, chocolate, confectionery, cookies and crackers, ice cream, industrial chocolate and nutraceuticals; Agribusiness, which produces fructose, maltose, glucose, corn starch, animal feed by-products, sugar, milk, semolina, corn flour and corn oil; and Packaging, with capabilities including corrugated cardboard, recycled paper, virgin paper, cardboard packages, paper bags, flexible packages, plastic and bioplastic extrusions, POP material and forestry.
"This guarantees the complete control of the entire production process," Pagani explains to Candy & Snack TODAY.
The company, the largest hard candy producer in the world, has more than 40 manufacturing facilities located throughout Latin America. "We have a huge production capacity, not only in our major plants in Argentina but also in facilities in Chile, Peru, Brazil and Mexico," he points out.
To ensure its ongoing viability, Pagani says: "We are committed to continuous investment to keep our plants up-to-date with the latest state-of-the-art technology and production capabilities."
A PLAN FOR THE U.S. MARKET
Arcor, which in addition to hard candies ranging from startlight mints and butterscotch to filled items, offers chocolates, cookies, crackers, toffees, gummies and classic and gum-filled pops in the U.S. market. The company is a major private label supplier and contract manufacturer whose products first appeared in the U.S. in 1967, when Pagani's father established a relationship with a New York-based distributor.
In 1993 it established an office in Miami, which for the past 10 years the market has been managed by Andrés Alarcon, who oversees a dedicated sales force.
Pagani, a 2000 inductee into the Candy Hall of Fame, points out the U.S. team has more than 20 years of experience in the market. "I am convinced this team is ready to face any future challenges and make a difference," he points out.
In the short term, he says the strategy for the U.S. market is to expand distribution of best-selling brands such as Bon o Bon and Butter Toffees and build its gummi and wafers businesses. In the long term, the goal is to position Arcor as a private label leader in the U.S. "To achieve this," Pagani explains, "we are planning not only to expand our sales force but also to establish partnerships with brokers around the country."
The company is building from a base of established private label relationships with dollar store chains club stores. "Our goal is to supply the most important supermarket and drug chains in the country, as well. We have the capacity and expertise to be a good partner for any large chain," Pagani says.
He notes the company's quality and price help drive sales, pointing to its strawberry and fruit-filled candies, which are made with real fruit pulp. "Our top-notch quality, our very competitive price and our huge production capacity set us apart," he tells Candy & Snack TODAY.
Pagani also points out Arcor's worldwide distribution model, built on strategic alliances with other global companies including Bagley Latinoamérica S.A. and a joint venture with the French group Danone to form the largest cookie company in South America; a Grupo Bimbo partnership in Mexico; and an alliance with Mastellone-La Serenísima, the main dairy company in Argentina. In addition, the company has a partnership with the Coca-Cola Co. for the joint development of products; and more recently, an alliance with Ingredion Inc. in Argentina, Chile and Uruguay.
"We were born in Argentina, have grown in Latin America and the world is our market," says Pagani. "We celebrate our anniversary looking towards the future. We are sure that our passion, our entrepreneurial spirit and our engagement will continue to fuel Arcor's growth for the next 70 years."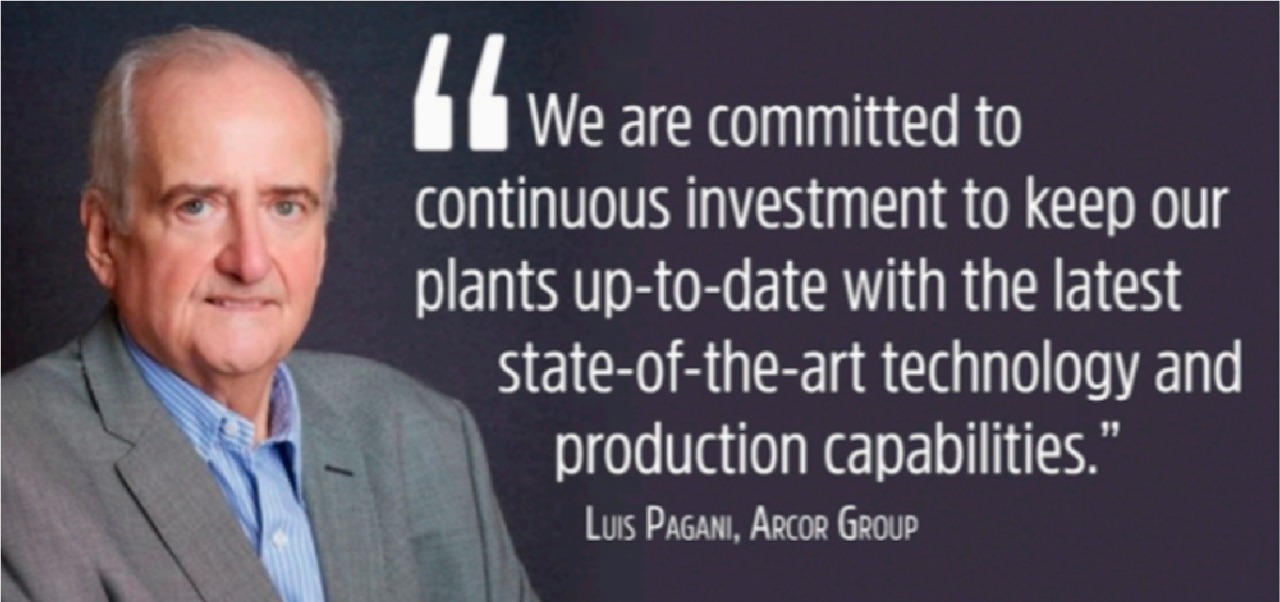 Descargar documento adjunto